Coronavirus is continuing it's spread across the world, with more than six million confirmed cases in 213 countries. More than 372,000 people have lost their lives.
Coronavirus disease 2019 (COVID-19) is defined as an illness caused by a novel coronavirus now called severe acute respiratory syndrome coronavirus 2 (SARS-CoV-2; formerly called 2019-nCOV), which was first identified amid an outbreak of respiratory illness cases in Wuhan City, Hubei Province, China.
On January 30, 2020, WHO declared the COVID-19 outbreak a global health emergency. On March 11, 2020, the WHO declared COVID-19 a global pandemic, its first such designation since declaring H1N1 influenza a pandemic in 2009. It then spread quickly across the globe in the first months of 2020.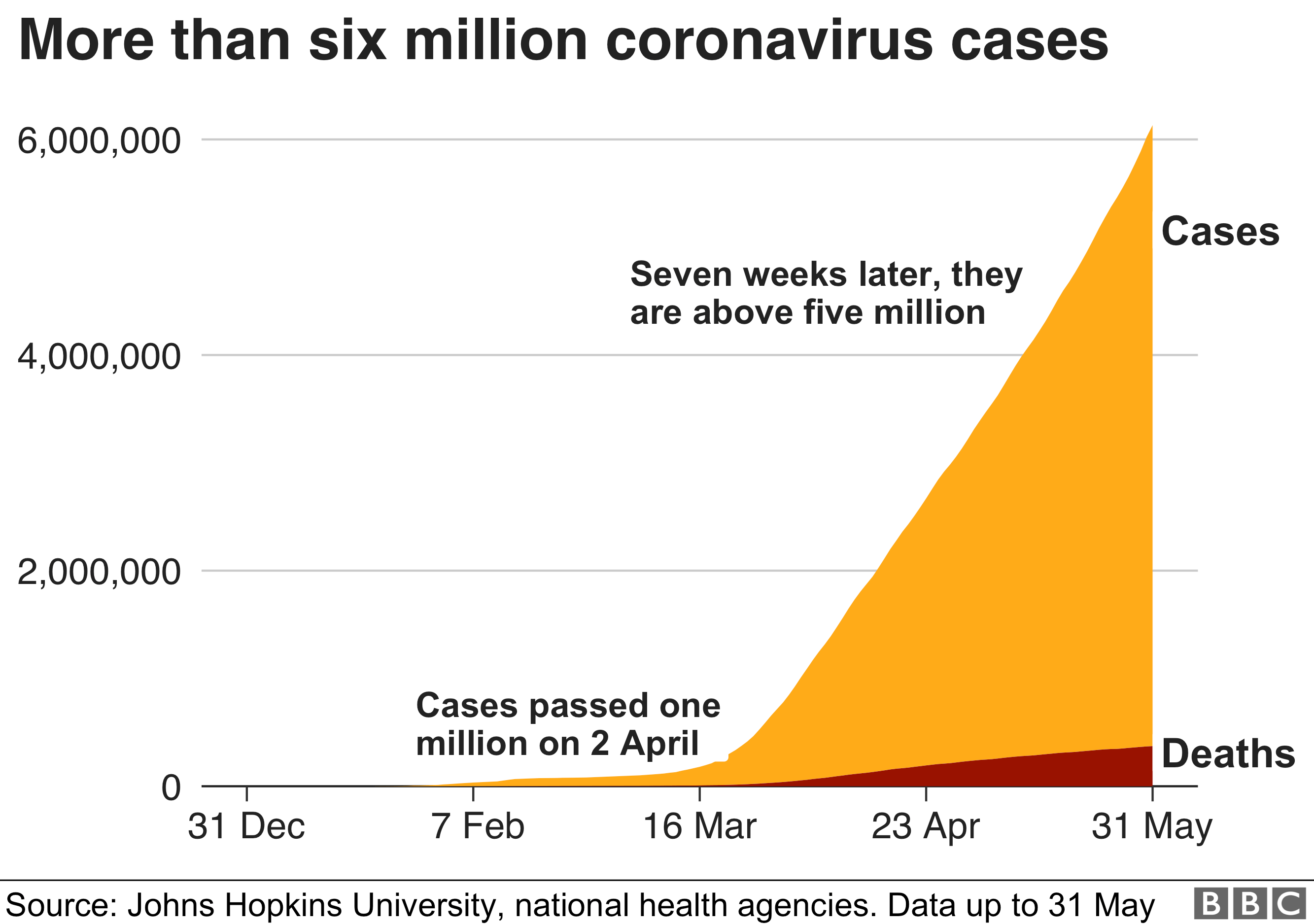 The coronavirus COVID-19 is affecting 213 countries and territories around the world.
There are now more than 500,000 cases in Brazil, and at least 29,000 people have died. A sharp increase in cases in Latin America has led the WHO to say the Americas are currently at the center of the pandemic.
With more than 1.7 million cases, the US has the highest number of confirmed infections in the world. It has also recorded over 120,000 deaths.
The number of daily new confirmed cases has been rising over the last week in 18 states, including California, Florida, and Louisiana. The UK had the second-highest rate of coronavirus deaths among 19 countries with comparable data.
The UK has recorded more than 38,000 deaths, the highest number in Europe. Italy is not far behind, with 33,000, while both France and Spain are just below 30,000.
Brazil, Mexico, Russia, Peru, India, Pakistan, and Indonesia have all seen daily death figures rise, when calculated as a seven-day rolling average.
How Did You Feel Regarding This Post?